The File Depot - Beach Cities
Bob Marsh and David Lechler are both well aware that we live in a time when information is the new currency. Now, more than ever, we have to take extra steps to insure our identity is not stolen, our company files are protected, our medical and personnel records are managed in compliance with the law and our financial documents are not compromised. Yet they also have an appreciation for a business' bottom line and understand that security, organization and cost-effectiveness are all necessities for any company to thrive.
David has spent over 20 years being self-employed, as well as a being an executive in corporate America, spanning industries including e-commerce, telecommunications and computer software. Raised in Colorado, David moved to Southern California 12 years ago to follow his passion for surfing. He now lives in Huntington Beach. When he's not helping businesses with their vital documents and records, David enjoys spending time with his wife and two children.
Prior to partnering with David and The File Depot, Bob was in the mortgage industry for nearly two decades. He was the founder and president of Endeavor Mortgage Group Inc. It was there that he learned the importance of document organization, record accessibility and cost-effectiveness. Bob was born and raised in Southern California and lives in the city he grew up in: Seal Beach, with his wife and son. He has a love for all things hockey.
They both recognize that companies have fundamental problems with their records. Time, money, space, compliance and efficiency, can present major concerns. They know how to solve those issues by showing businesses what they have, where it is, how it's stored and when to get rid of it. All in a completely secure environment at a practical cost.
They both pride themselves on putting a premium on customer satisfaction and providing the highest level of customer service in the industry.
Bob and David are looking forward to offering your business a simply smarter, more cost-effective, secure way to manage your confidential information.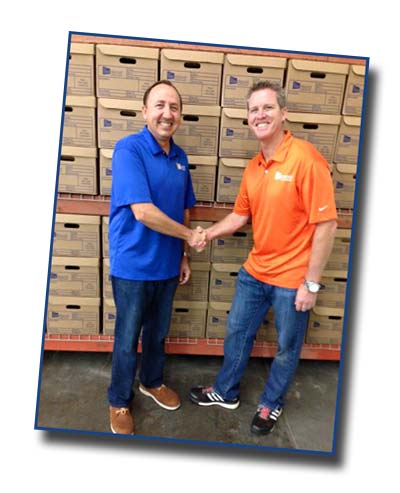 David Lechler & Bob Marsh
Franchise Owners – Beach Cities, CA